Please Note: This activity is a portion of a larger lesson. It is optimized for desktop use — we recommend viewing full-screen. 
Intro
Cengage Learning Australia is a leading provider of learning solutions, including textbooks and digital educational resources, for the professional development and higher education markets. Like many educational publishers, Cengage is using adaptive technologies to personalize learning experiences to keep students engaged and help them succeed.
UNSW Australia School of Business was looking for an online learning solution to supplement their textbook that would cater for students with different levels of knowledge. Cengage Learning partnered with Smart Sparrow to design a learning experience for a challenging university-level corporate finance course. The developed module can be fully integrated with existing resources or act as a standalone product.
Challenge
The UNSW School of Business wanted to utilize Cengage's International Corporate Finance (ICF) textbook, but it was looking to move the core business studies into a blended learning framework. The goal was to make both face-to-face and online learner experiences available in postgraduate and undergraduate programs.
The Business School was facing an increasing demand by part-time students holding full-time jobs. This shift in learner profile required an alternative way to deliver the course, and course material, that better aligned with students' needs and learning styles.
Students were also having difficulty with the university-level corporate finance course; the concepts were challenging and textbooks were unengaging. The ICF textbook is generally used to introduce students to corporate finance for the first time, and the team was looking for a more innovative learning solution than simply converting the book into a dry PDF available in the LMS.
Solution
Shifting Cengage Learning's corporate finance text online was a natural solution, one that would make content more accessible to remote students and those working part-time or remotely from the campus. Working with subject matter expert from UNSW Australia and the Smart Sparrow learning design team, Cengage was also able to develop an active and adaptive Corporate Finance Module that could be used to teach undergraduates, postgraduates and professionals.
It was important that the module reinforce and deepen the learning experience. The solution — which can be fully integrated with existing textbooks and resources or used as a standalone product — features two course-level simulations, interactive widgets and gamified components that enable learning by doing.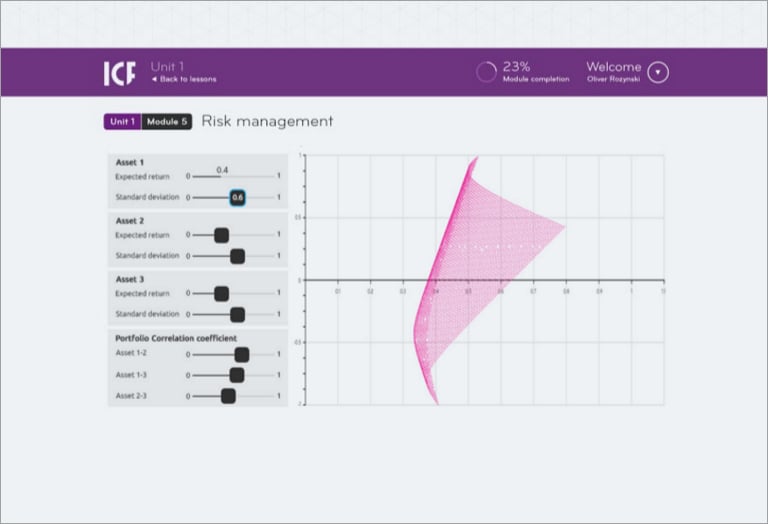 A key design feature of the modules is the ability to visualize concepts and practice them over and over with different set of numbers and different parameters. Concepts related to portfolio theory and optimal asset allocation are difficult to work with without visualisation so the ability to change assumptions and parameters allows students to understand implications and deepen learning.
The course includes theoretical concepts to practice exercises and mastery activities. Students get instant feedback as they work through the module, which creates a more personalized experience and reinforces learning outcomes. The adaptive design allows teachers to adjusts the level of instruction to suit each individual learner, fast-tracking high-achieving students to more complex problems while guiding struggling students towards the correct answers.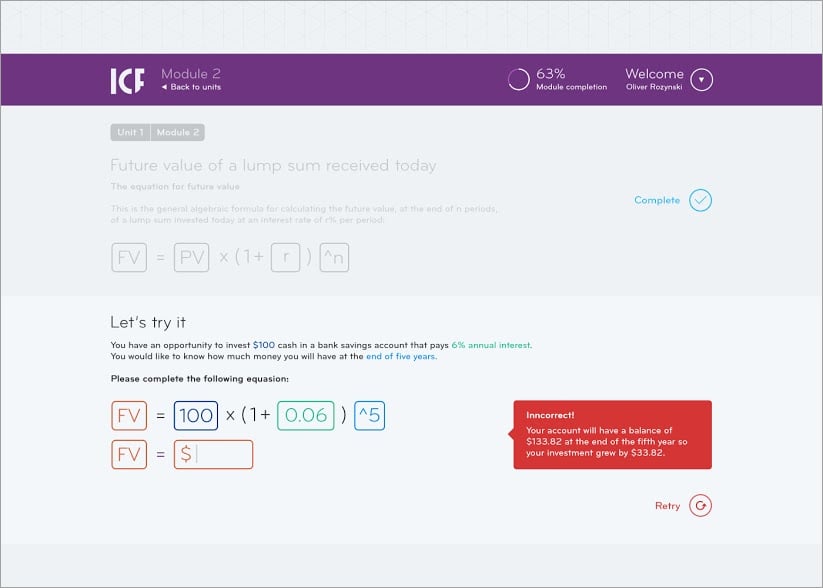 On the back-end, detailed analytics help instructors assess student engagement and study habits and measure their overall improvement. This means instructors can precisely identify areas of weakness for individual students and provide necessary support.
Results
Cengage is currently trialing the adaptive Corporate Finance Module with MBA students at UNSW Australia and will soon offer the learning experience to international universities via its MindTap platform. There is also been interest from Cengage's U.S. product team in taking the module to the American market, which is rare for an Australian-developed resource.
Awards
The Introduction to Corporate Finance Module was awarded 1st place in the 2016 LearnX Impact Awards in "Best eLearning Design: Shift-it-Online", for the exceptional transformation and redesign of an existing traditional training project for a totally online delivery.