Introduction
As a senior lecturer with the School of Biotechnology and Biomolecular Sciences at the University of New South Wales, cancer specialist Dr. Louise Lutze-Mann and her students study the electron transport chain — the process in which the movement of electrons is used by mitochondria (the cell's powerhouse) to generate the chemical energy that the cell needs to live and grow.
Wet laboratory environments are a necessary component of such science classes, but they present several challenges: space capacity limitations, high costs of replacing damaged equipment, limited student access to supervisory staff, among others.
The Challenge
At UNSW, the Oxygen Electrode Lab was no longer available for undergraduate students, due to the high cost of equipment and the large number of staff needed to run the facility for their 300 students.
Dr. Lutze-Mann sought a way to replicate the experience for students without using a wet lab environment. When she was shown what could be done with the Smart Sparrow Adaptive eLearning Platform, she immediately saw the advantages of a virtual lab.
"I knew from my own undergraduate training that learning in an oxygen electrode lab was a crucial building block to my understanding of the complicated processes that go on in a living cell," says Dr. Lutze-Mann.
The Solution
Dr. Lutze-Mann worked with Smart Sparrow founder Dr. Dror Ben-Naim to develop the Oxygen Electrode Virtual Lab and replicate the missing web labs.
"Working with Smart Sparrow, I created a virtual oxygen electrode laboratory, which has effectively solved several problems. In a real-world 'wet lab', students can waste a lot of time setting up and fiddling with equipment before they can do the activity and get the results they need," she says. "Using a graphical-based representation of a real-world lab, we bypasses the need for manual dexterity and enable students to quickly focus on the learning task and actually think about the true purpose of their experiments — what data they need to collect and how they can analyze it."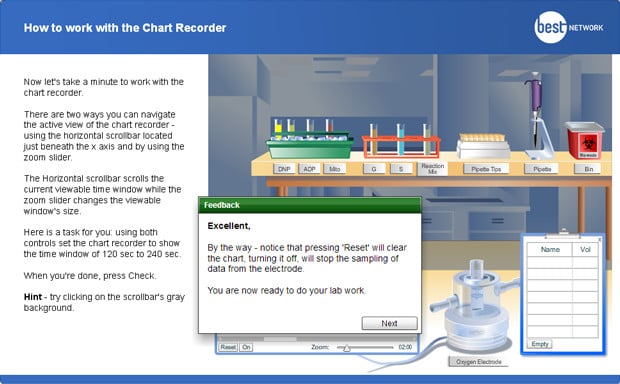 As students interact with the virtual lab, they get experience with proper lab procedures and safety processes. If they make a mistake or forget a step (such as putting a tip on the pipette before drawing sample), they immediately receive adaptive feedback to let them know what they did wrong and how they can correct that action.
Dr. Lutz-Mann shared that they use the virtual lab to supplement on-ground learning: "Our virtual lab now operates alongside existing real-world wet lab activities, but the virtual learning experiences mean that students can enhance their studies with an entirely new activity that we wouldn't have been able to provide otherwise. Given how challenging science can be, that's a fantastic outcome."
The Results
Dr. Lutze-Mann has been working with the Oxygen Electrode virtual lab since 2008 and has been able to trial and tweak it to improve the learning experience over time — as well as repurpose it for different classes.
"The Smart Sparrow system was so versatile I was able to adapt it to specific student groups… I can easily modify the questions, changing their format (multiple choice, fill-in the blanks, etc) or adding more supportive information behind a question by including an image or video to illustrate a concept," says Dr. Lutze-Mann.
For medical students, compared to science students, Dr. Lutze-Mann says learning focuses less on experimental design and data analyses, and more on understanding fundamental concepts and impact on human health — and the configurable virtual lab environment allows her to modify the lab for those different purposes. The virtual lab has been able to effectively teach more students at a fraction of the typical yearly development cost.  
Furthermore, the built-in analytics provide insights into student performance and reveal whether or not individuals are grasping fundamental concepts, as well as indicate whether they are able to successfully transfer newly learned information to new situations. Instructors and TAs use the information to identify learner strengths and weaknesses, provide individual or class-wide intervention, and further refine the course to improve outcomes in future sessions.
Dr. Lutze-Mann has since introduced more virtual labs designed to support her students' understanding of fundamental concepts; one augments an existing wet lab for preparatory practice, while the other replaces a lab that is very challenging and costly to run on-ground.
"While it takes time and effort to create a virtual lab, the response from the students has been very positive. They relate well to online activities, and so engage readily with the virtual labs — some even reporting that these are the first labs they have enjoyed."
Now Available for Other Instructors
The Oxygen Electrode virtual lab is now available for other instructors to use via the BEST Network Courseware Catalogue. Contact the BEST Network for more information.