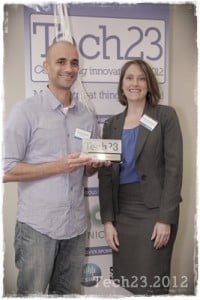 "The fourth annual Tech 23 Innovation Showcase packed a Sydney auditorium on Tuesday with entrepreneurs and venture capitalists keen to identify the "next big thing" and a share in the $100,000 prize pool.
Smart Sparrow was awarded the High Growth Catalyst Award ($20,000) for it's Adaptive eLearning Platform empowering teachers to create powerful learning experiences, which intelligently adapt to students.
Deputy Premier and Minister for Trade and Investment Andrew Stoner said the Tech 23 innovation event showcased 23 young technology companies and their business models to an audience of over 400 potential investors, partners and clients.
The NSW Government supports Tech 23 with $100,000 in prize money awarded to the best ICT tech start-ups, with which Smart Sparrow has been honoured to be included.x
"Tech23 provides a fantastic platform for innovative young companies to help them accelerate commercialisation, generate investment and encourage business connections with potential partners, investors and clients," Mr Stoner said.
"Innovative start-ups support new jobs, new services, new business models and potential new industries and Sydney and NSW are primed for growth in this sector."