In contrast to widely held perceptions, online learning can be as effective as in class learning. Done right, online learning outcomes can significantly outpace those of their in class equivalents. Adaptive tutorials prepared for introductory mechanical engineering courses have highlighted this potential.
Inside Higher Ed's '2014 Survey of Faculty Attitudes on Technology' found that:
80% of faculty members and 89% of academic technology administrators agree it is very important that an online course "provides meaningful interaction between students and instructors."
Yet, only few faculty members (9%) strongly agree that online courses can achieve student learning outcomes equivalent to those of in-person courses…. whereas academic technology administrators are far more likely (36%) to strongly agree with this statement. At Smart Sparrow, we believe that online learning works best when it extends the reach of a great instructor and provides opportunities to strengthen his or her interaction with each student. We also believe that if online learning is adaptive, and provides students with real-time feedback from their instructor, then student perceptions of online learning quickly change. When online learning is personalised and adaptive, the student experience is transformed from passive and pedestrian to active and involved, as if they were benefiting from the intimacy of their own tutor. Perhaps most important, research shows that when this occurs, the impact on student learning outcomes can be significant.
A recent study led by Professor Ganga Prusty from UNSW "…centred on improving the student experience in design-based engineering courses, by using online-based Adaptive Workshops"(1). The Adaptive Virtual Workshop project involved the application of adaptive learning technologies to address threshold concepts in Engineering Design education (2). The research concluded that "…students were able to better understand the subject matter via the improved feedback loops provided; and both the student and the educator were able to make necessary adjustments to cater for the individual learning needs of students. Additionally, surveys found that students had a better and more enjoyable learning experience through the use of adaptive tutorials."
The most recent project extends the work of an earlier OLT project which elicited a 77% reduction in failure rate (31% to 7%) in the subject 'Engineering Mechanics 1' at the University of NSW (3). This dramatic impact on learning outcomes was achieved using a series of adaptive tutorials built on the Smart Sparrow Adaptive eLearning Platform (AeLP), targeting threshold concepts in 'Engineering Mechanics 1' and delivered to students in a flipped mode.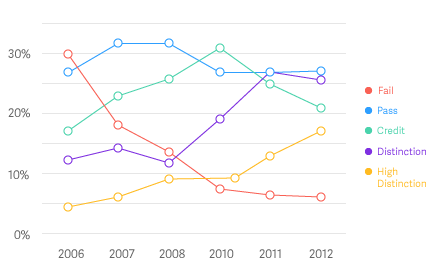 This class of outcomes, such a dramatic transformation in student learning, following the application of our technologies, is an inspiration to all of us at Smart Sparrow. We are inspired to see online learning outcomes like these, far exceeding those previously achieved with in class learning.
(1) Published in the Australian Association for Engineering Education (AAEE) 2014 conference proceedings as "The Adaptive Virtual Workshop: Maintaining student engagement through an on-line adaptive resource for engineering design education".
(2) The Adaptive Virtual Workshop is an Office of Learning and Teaching (OLT) funded collaboration between UNSW (lead institution), Griffith University, University of South Australia, University of Tasmania, University of Western Sydney and the University of Wollongong, which
(3) "An Adaptive eLearning Community of Practice for Mechanics Courses in Engineering"
Greg Higgins, Academic & Learning Communities.