A Massive Open Online Course (MOOC) is a unique opportunity for educators. They can make information more accessible and scale their teaching to hundreds or thousands of people who want to learn but can't afford tuition fees. Or live in areas of the world where there are few universities. Or want to figure out if a particular subject is something they could be interested in.
Unfortunately, many MOOCs use a one-size-fits-all approach to teaching and learning, and the content may not get updated between offerings. Research shows that students perform better when classes are personalized and adaptive to individual needs, yet the majority of MOOC courses do not incorporate that learning. How can we improve this opportunity for learners, particularly for diverse global cohorts?
Improving MOOCs with adaptive technology and cycles of continuous improvement
Designing and building lessons using an adaptive elearning platform allows instructors to give students the different information and support they uniquely need, as they need it. If a MOOC incorporates adaptive learning, then it can effectively scale up 1-on-1 tutoring and so provide thousands of students with individualized learning experiences.
Learner analytics are the key to data-driven continuous improvement, giving instructors insight into where students are performing well and, perhaps more importantly for our purposes, where their performance can be improved. Analytics can also show how instructors can meet the expectations and preferences of students. The information instructors gain from analytics can be used to determine how to provide better learning experiences so students can grasp concepts and complete lessons more effectively.
For example, an educator may:
identify those parts of the tutorial that were not working well by analyzing the adaptive feedback and the remedial pathways that were most frequently accessed in a course,
add more specific advice where students weren't progressing even after receiving tailored feedback, or
include additional material to support student learning.
How one team is innovating MOOCs
Through Engineers' Eyes: Engineering Mechanics by Experiment, Analysis and Design is a MOOC teaching fundamental engineering principles, designed by Professor Ganga Prusty, Retired A/Professor Robin Ford, and the Learning & Learning Design and Development Services at UNSW Australia. The team understood the challenges with MOOCs and committed to cycles of continuous improvement after every offering of the course. They chose to incorporate adaptive tutorials, built on the Smart Sparrow platform. The adaptive tutorials were designed to offer a personalized learning experience for every student.
In April 2016, Through Engineers' Eyes was taught for the first time with over 7,000 students from more than 100 countries.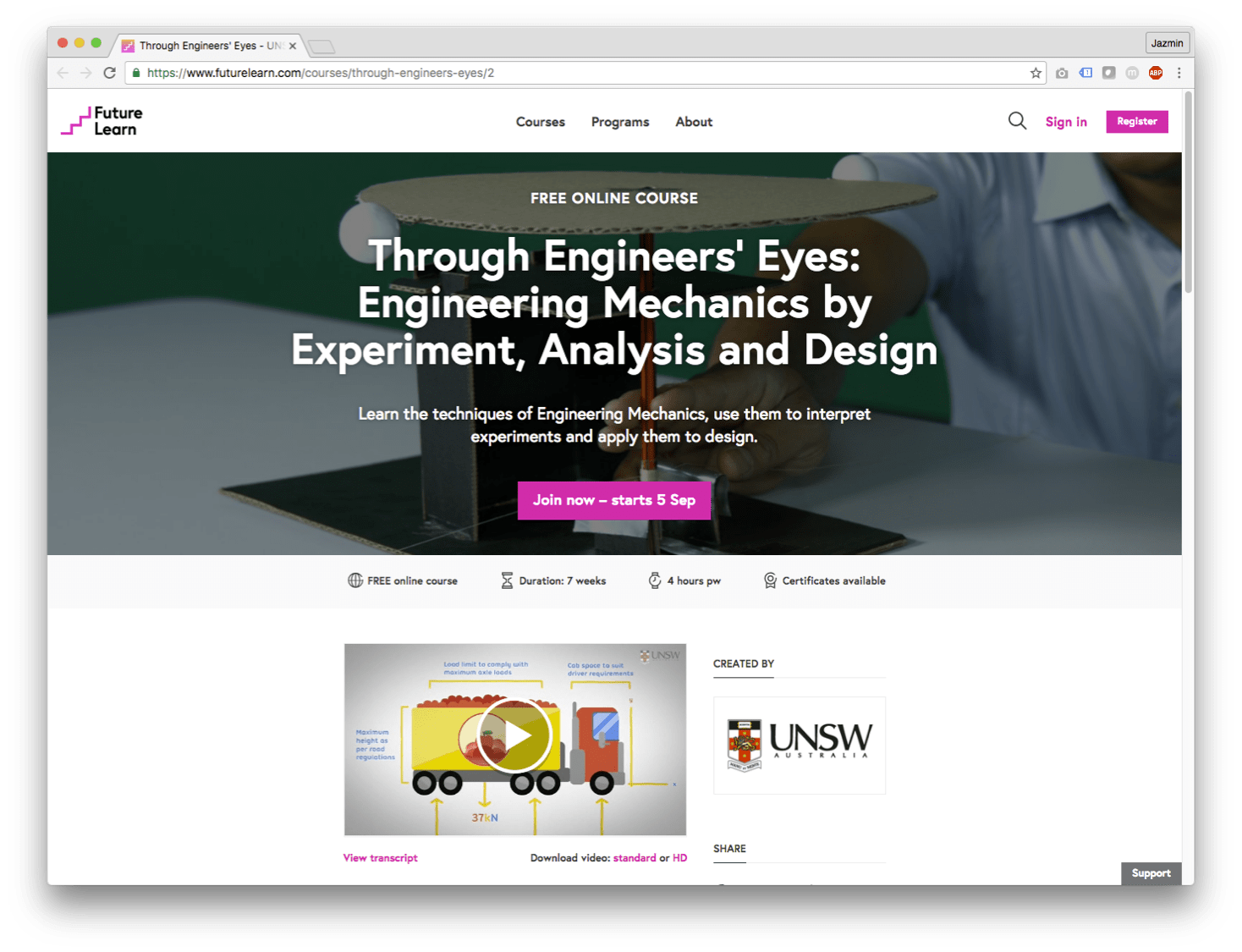 Lessons learned on MOOCs and Adaptive Tutorials
As part of the process of continuous improvement, students were given an end-of-course survey. They shared their thoughts on the effectiveness of learning with MOOCs and adaptive tutorials. Participant survey responses included the following:
92% indicated that in a course like this they prefer interesting material, even if it's difficult to learn.
85% said the adaptive tutorials were useful to apply the concepts.
85% said the adaptive tutorials helped them to evaluate their learning effectively.
66% said the adaptive tutorials were effective as a learning activity.
66% said the material was presented in an engaging manner.
Encouraged by this student feedback and learner analytics provided by the Smart Sparrow platform, the UNSW team reviewed how the adaptive tutorials were presented, suggested possible improvements in the UI and learning design of each tutorial to create the most engaging learning experience possible.
Improvements made included:
Adding general information screens to the beginning of each lesson to help orientate learners to the new technology found in the adaptive tutorials. Chunking some their adaptive tutorials, such as their Free-Body Diagram, into smaller learning scenarios to make them shorter and easier for learners to understand and complete in their limited free time. Altering some of the content to increase interest and retention. General course changes, including enhanced accessibility of the adaptive tutorials for mobile devices such as iPads, new drag-and-drop activities, improved adaptive feedback, and better quality LaTex equations.
Another deployment will start 5 September 2016. You can check it out and join the engineering MOOC here.
The team is currently planning to additionally launch their course through SWAYAM (Study Webs of Active-Learning for Young Aspiring Minds), a MOOC platform developed by the Indian Government, to benefit hundreds of thousands of more students.
The importance of continually evaluating learning experiences
Whenever and wherever a course is delivered, it's vital that we continually analyze the learning experiences to make sure it always meets our objectives. Because MOOCs can reach thousands of students, it is all the more important that the learning is effective.
With new EdTech innovations in MOOCs, adaptive technology, and learner analytics, we can all create amazing, data-driven courses that prepare students for their future by ensuring they have access to the best learning experiences possible.