Improving student results in introductory science courses is a global priority, as our economy continues leaning on a shortage of STEM-related college graduates.
In a new efficacy study, BioBeyond has continued to prove that it helps students better understand introductory biology, persist through their course, and improve final grades.
BioBeyond is an adaptive and interactive biology course that contains eight complete units pedagogically centered around learning through exploring science instead of just memorizing facts. It is designed to be a low-cost alternative to textbooks, but has also been used alongside required textbooks as supplementary learning material or homework. Every lesson meets learning objectives for university-level introductory biology, from the building blocks of life and how a cell functions to how organisms adapt in different climates to what it takes for life to survive in space.
The adaptive course was designed in collaboration between the Inspark Science Teaching Network and Smart Sparrow teams. It uses the Smart Sparrow platform, so students complete the lessons online, receiving feedback based on their performance while learning pathways make sure they focus on content they still need to master.
BioBeyond is available for any biology instructor to use in fully-online or blended/flipped learning classes.
Efficacy Evaluation: Does it work?
In a recent independent evaluation by SRI Education conducted at four higher education institutions — Arizona State University, Miami Dade College, Mohave Community College, National University — researchers measured the impact of incorporating BioBeyond science courseware compared to a traditional course for 1,800 students in Fall 2016.
The study found that use of BioBeyond improved end-of-course grades by up to half a letter grade.
Positively impacting all students
Researchers also controlled the efficacy study for student demographics. In some very exciting and important news, they found that gender and underrepresented status had no effect on the ability to predict student performance. One of the goals in creating this course was to enable access to high-quality learning experiences for students in disadvantaged learning groups, so both the Inspark and Smart Sparrow teams were doubly thrilled to see these results.
Data from the SRI International evaluation report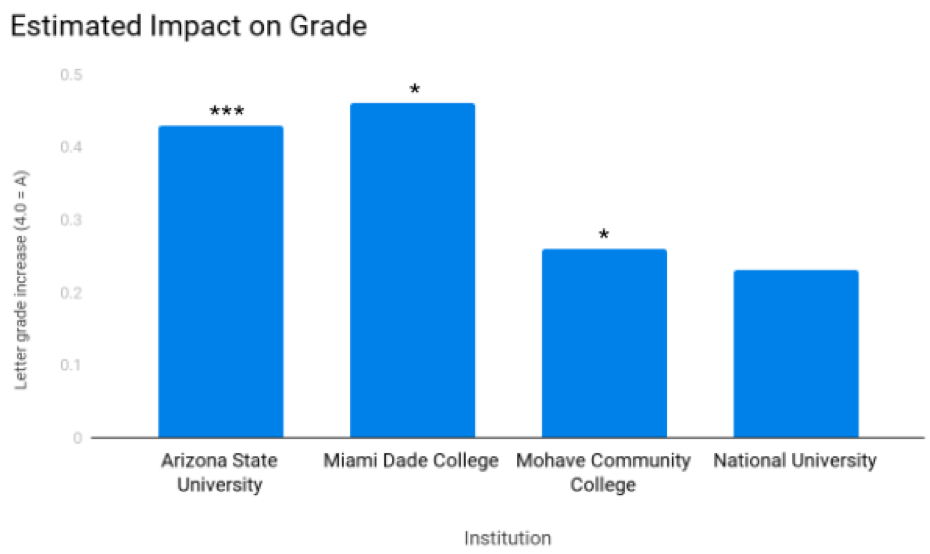 n = 1,800 students
Controlled for potential confounding variables, including incoming GPA, demographics, and other administrative variables
Sections: 19 BioBeyond, 8 traditional
Instruction: Fully-online and Blended/Hybrid
When: Fall 2016
0 to 4 grade scale, with 4.0 = A
Statistically significant positive impact on grades for 3 of the 4 institutions (p < .05)
The statistically significant improvements were roughly half a letter grade for the Arizona State University fully-online course (+0.42) and the Miami Dade College blended/hybrid course (+0.46), and nearly a third of a letter grade for the Mohave Community College blended/hybrid course (+0.26). Results at National University weren't statistically significant, but still showed positive impact on student learning (+0.22).
Read more about the SRI Evaluation into BioBeyond in these articles:
A Second Study: Same instructor, same exam, better results with BioBeyond
A separate controlled study, not conducted by SRI Education, compared instruction using BioBeyond to traditional methods, with both courses led by the same instructor and culminating in a common exam across 7 semesters at Miami Dade College.
Results suggested use of the BioBeyond course led to more As and Bs compared to the traditional Biology 100 course — 33% vs. 19% of the final grades, respectively (p < .001).
Study Report Data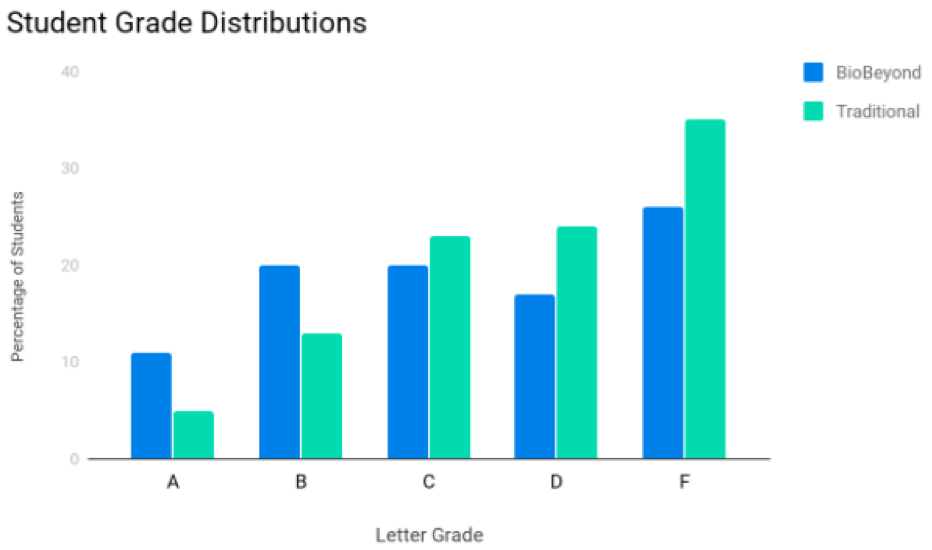 Common exam and instructor across all
n = 239
Sections: 2 BioBeyond, 5 traditional
X2(1) = 20.994, p < .001
Use BioBeyond in Your Course
We invite you to talk to our partners in the Inspark Network about how BioBeyond and adaptive science education can fit into your 2018 classes. You can contact their team using this form on their website.