Every March, just days before concert-goers and TED Talk enthusiasts flood the streets of Austin, Texas for South by Southwest (SXSW), a different cohort of big-thinkers convene. This is SXSW EDU — the younger, nerdier sibling. Luckily for all of us in academia and edtech, nerdy is cool again, so go right ahead and give this event a peek!
The public has the opportunity to not only attend, but to have a say in the programming at SXSW EDU using the Panel Picker. Through August 30th, vote for the sessions you're interested in hearing more about.
Smart Sparrow has two sessions on the ballot for your consideration. We've organized a panel and a workshop to discuss big, exciting topics in education right now, and how to bring massive innovations to the students who need them most. Learn more about our session candidates below and help us out by voting for Can Machine Learning Solve the STEM Diversity Gap? and Exploration-Guided Digital Learning Design on the SXSW EDU Panel Picker.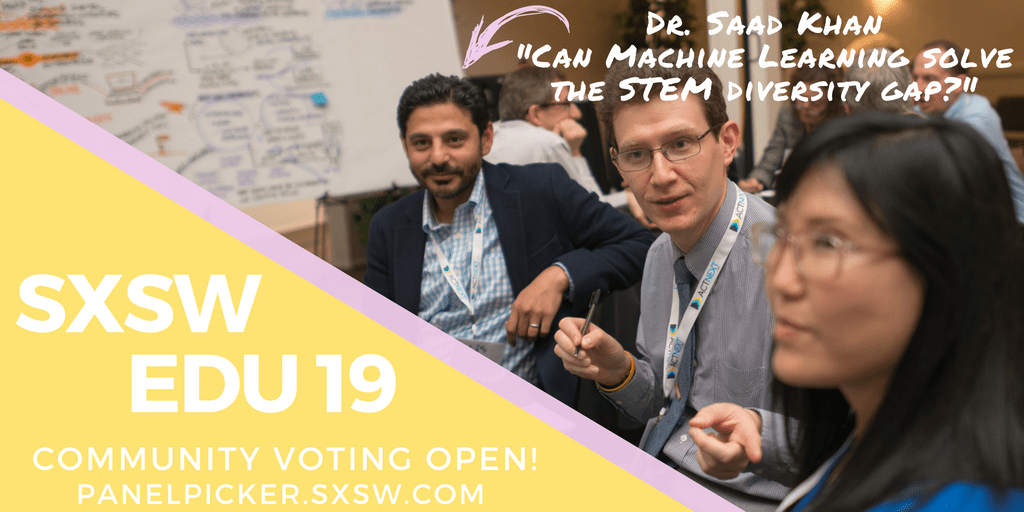 Can Machine Learning Solve the STEM Diversity Gap? [Panel]
Today, only 11 percent of low income, underrepresented minority, or first-generation students meet the ACT Benchmark in science — a standard for college readiness — which holds big implications for increasing diversity. With the advent of AI and personalized learning, can new approaches to teaching and learning such as ML-based computational psychometrics close the STEM diversity gap? Hear from experts working with major institutions to ensure all students have the tools to pursue the STEM fields.
What You'll Learn
Researched causes of the STEM achievement gap.
How smart courses can help level the playing field for low-income, minority, or first-generation students.
The role AI & ML play in improving completion rates & retention of course material for students at risk of dropping out of STEM majors.
Speakers
Exploration-Guided Digital Learning Design [Workshop]
Join the Arizona State University Center for Education through Exploration (ETX) to examine a new theory of digital learning design that embraces exploration of the unknown. Through hands-on activities we'll share the ETX design practices and the technologies that make them possible, accessible, and scaleable. Dive into interactive and adaptive digital learning experiences such as Inspark courseware and NASA-funded Infiniscope lessons to discover how these principles can be implemented.
What You'll Learn
Explore the background, need for, and outcomes of the Education Through Exploration Theory of Digital Learning Design.
Discover the primary principle and practices used to design ETX digital learning experiences.
Engage in digital learning experiences to investigate how ETX design practices are implemented.
Speakers
Voting
Would you attend these sessions? If so, please help us get them to SXSW EDU by giving them a positive vote here and here in the Panel Picker before August 30, 2018. You can tweet about them too! Thank you, and happy voting!