One of the great pleasures of my role at Smart Sparrow is all of the incredibly fascinating people that I get to speak to on a daily basis. I have found that these conversations inspire my work and keep me motivated to continue pushing boundaries.
What got me excited about starting The Learning Nerds Podcast was the opportunity to share these types of conversations with everyone, so we can all learn. Education is a village, and it will take all of us to keep moving the mark for students.
This is why I'm so excited about kicking off this series about ACT and their transformation.
Smart Sparrow has been collaborating with ACT over the past year, and I have been consistently impressed with how committed they are to growing and changing. Their rich history and how they approach their work has pushed me to look at the way the industry should be designing not only assessments, but all products geared for learning. They want to push boundaries because they believe that continually innovating their work, their products, and their organization is what's best for students — and that inspires me.
In this first episode of the series, hearing Marten Roorda, CEO of ACT, Inc., talk about his vision (and how long he's had it!), plus having personally had the opportunity to discuss and witness ACT's transformation these past months, gives me high hopes that the rest of the industry is being just as thoughtful about innovation and positively impacting learners. Even when change feels slow, we can all work together to reach our dream state for education.
Perhaps interviews with such well-established players in U.S. education isn't something you're looking for right now… I get that. After all, I came to a startup to break free from the mold and do things that I wasn't able to accomplish in a large organization. But watching, hearing, anticipating, learning from, and collaborating with "the big dogs" is vital for everyone's success in this industry — because they can do things at a scale that smaller companies simply can't (yet!).
While ACT is chiefly known for their postsecondary assessment exam, I think their ongoing transformation showcases their true commitment to the whole student. And knowing that ACT is actively striving to be a part of the push for change is pretty cool from where I sit in the industry.
So, please tune into this episode of The Learning Nerds Podcast to hear about Marten's vision for the future of education and of ACT as a learning, assessment, and navigation company: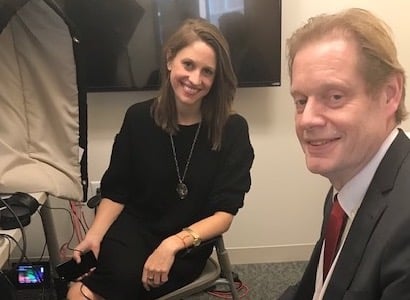 Some highlights from the episode:
How the education ecosystem is changing
Marten: "The linear ecosystem has changed into a nonlinear system – that's what we're seeing right now. You see open educational resources and you see adaptive learning emerging and those are signs of a new ecosystem. It's still small but it's growing, and at some point there will be a tipping point where schools will decide to spend their budget only on the new ecosystem and get rid of the old. It's still a few years away, but the change is coming and the question is not 'If?' but 'When?'"
The importance of innovation to decrease equity gaps
Marten: "So, the kind of innovation I talked about is for a reason. You should only do that, or you're only able to do that, if it also means an improvement – so better outcomes. Better outcomes are really needed because there's a big opportunity gap, especially in U.S. education. There's a lot of underserved students. So, the final goal – or the "Ultimate Dream" – of education technology is to create more opportunity for everyone, so that at some point hopefully everyone can live up to their potential and become successful in college and career and life. That's what we all do it for. It wouldn't make sense to only create a better experience; it's not enough. You should also look at the efficacy and see what better outcomes you can create and how to use innovation to level the playing field for everyone."
Why we must look beyond academic skills
Marten: "I think we should measure anything that is a success factor for students. Anyone would admit that academic skills are not the only success factors. The non-academic ones — like social emotional learning and others — are at least equally important to become successful. We cannot just close our eyes and say 'Well, we'll just stick to our math, science, and ELA measurement.' So, I said that we have to develop measurement tools in the other areas too. Fortunately, ACT has been developing the holistic framework, which covers not only the academic skills but also cross-cutting capabilities and social emotional learning skills and also navigational skills. So there was there was a foundation already."
Don't miss other episodes from the learning nerds. Subscribe and listen on the podcast homepage.
---
About ACT
ACT is a mission-driven, nonprofit learning organization dedicated to helping people achieve education and workplace success. Headquartered in Iowa City, Iowa, ACT is trusted as an international leader in measurement, utilizing 60 years of research to improve learning and navigation for individuals across the globe. ACT offers a uniquely integrated set of solutions designed to provide personalized insights that help individuals succeed along their journey from elementary school through career. To learn more about ACT, visit us online at www.act.org.