Intro
Capacity Australia, not-for-profit medico-legal professional education charity, in collaboration with Smart Sparrow, has developed an online education tutorial to help frontline bank staff better identify potential financial abuse victims. Launched in 2015, the E-Learning Tool for Bank Staff was designed specifically to teach bank staff how to better understand dementia, financial capacity, supported decision-making, signs of financial abuse, and appropriate responses to suspected financial abuse. Since the product's release, trials with the Commonwealth Bank of Australia and National Australia Bank have shown almost 100% improvement in identifying financial abuse and what to do about it—in an approximate completion time of 15 minutes.
Challenge
With 20% of Australians over 80 currently affected by dementia, and the financial abuse of older people occurring at a rate of at least 5%, the finance industry realized a crucial need for bank employees to know how to identify the signs and respond appropriately.
Capacity Australia looked to develop an educational program that would effectively teach this content to staff at their own pace, and assess their level of understanding in a high volume, time-restricted, customer service environment, in which risk management decisions often need to be made immediately.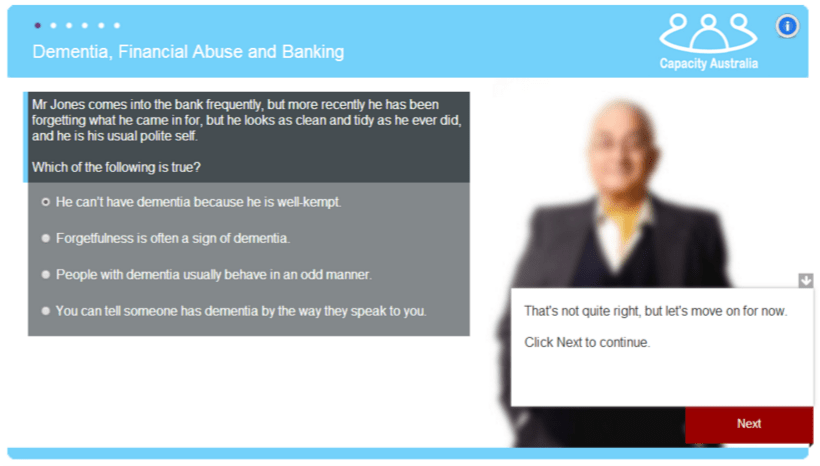 Solution
With a $50,000 grant from the University of South Wales Dementia Collaborative Research Centre, Capacity Australia worked with Smart Sparrow to develop a tool tailored to the banking environment to increase dementia awareness and empower front-line banking staff to better understand signs of financial abuse, supported decision making and exploitation of older people. The tool is also based on the Australian Bankers' Association (ABA) Industry Guidelines on financial abuse.
The Dementia, Financial Abuse and Banking online tutorial runs staff through a range of scenarios and assists them to determine the most careful and respectful way to handle each situation. Each student follows their own personalized pathway through the scenarios, which have been carefully designed to pinpoint and address common staff misconceptions.
Results
The result of the course is better learning outcomes and better time management, as students who know the material progress more quickly, while students who need further time exploring and learning the material are given more content. Typical lesson times therefore range between 10-30 minutes.
Trials with customer service staff from both Commonwealth Bank and National Australian Bank have shown, after just one learning session, a 99% improvement in identification and processing of financial abuse risk cases. This realizes a big win for both banks and their clients.
Moreover, other countries overseas (e.g. Spain and Japan) are interested in this ground-breaking education solution to elder abuse and are adapting the tool to their banking environments.
Awards
"Best eLearning Design - Simulation" Gold in LearnX Impact Awards 2016