Please Note: This activity is a portion of a larger lesson. It is optimized for desktop use — we recommend viewing full-screen. 
Intro
Chartered Accountants Australia and New Zealand (CAANZ) is renowned for their strategic thinking and their rigorous professional training. To ensure they offer the world the sharpest minds in business and finance, CAANZ is responsive to ever-changing market needs and ensures candidates' skills and knowledge remain relevant in today's business world. CAANZ partnered with Smart Sparrow to design two engaging and interactive learning experiences for their postgraduate Financial Account and Reporting Unit.
Challenge
Each year, thousands of candidates from around the world enroll in CAANZ courses. Because candidates are operating from different locations and time zones, traditional learning experiences among them differ greatly. With high-level accounting concepts being taught to a geographically dispersed group, CAANZ needed to employ a standardized teaching method that could adequately prepare candidates for the real-world situations they would eventually encounter. Yet, it was also crucial that the instruction be flexible enough to adapt to the candidates' varied learning styles and levels of comprehension.
The institution's existing digital tools provided very little insight into how over 3700 students were performing as they took the lessons. And instructors were unable to pinpoint the specific areas of difficulty, which prevented them from being able to improve the lessons for future candidates.
To that end, CAANZ sought to incorporate a technology mediated mode of instruction to the mix. They wanted to develop an engaging and interactive experience to teach a rather complex accounting concepts that students usually struggled to grasp via conventional learning methods.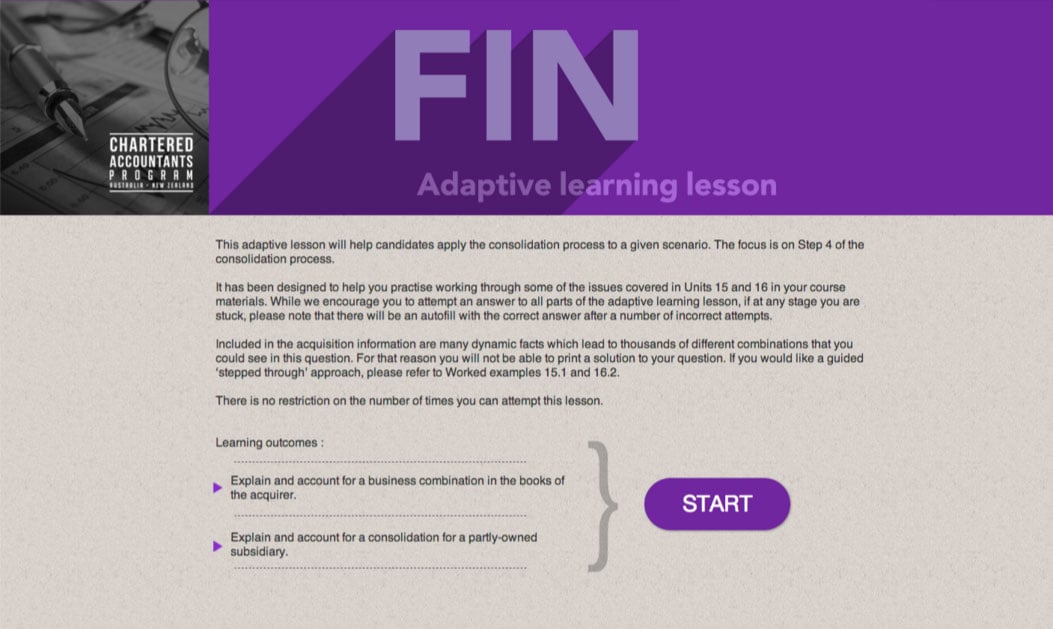 Solution
From these challenges sparked the idea of providing a more personalized learning experience to candidates - backed by real time learning analytics. In March 2014, CAANZ, in collaboration with Smart Sparrow, used the platform to create two adaptive lessons. The lesson, titled the FIN Adaptive Lesson, featured an interactive simulation that placed students in the shoes of an employee whose company had just acquired controlling interest in another company. Students were tasked with preparing the journal entries that are required for the consolidation of a new company.
From design to execution, the FIN Adaptive Lesson mirrored the experiences that students could expect to encounter in real-world situations. The aesthetic design and premise emulated a realistic office setting, raising the stakes and increasing the students' levels of engagement. This allowed for a cognitive connection between knowledge and the practical application of their skills.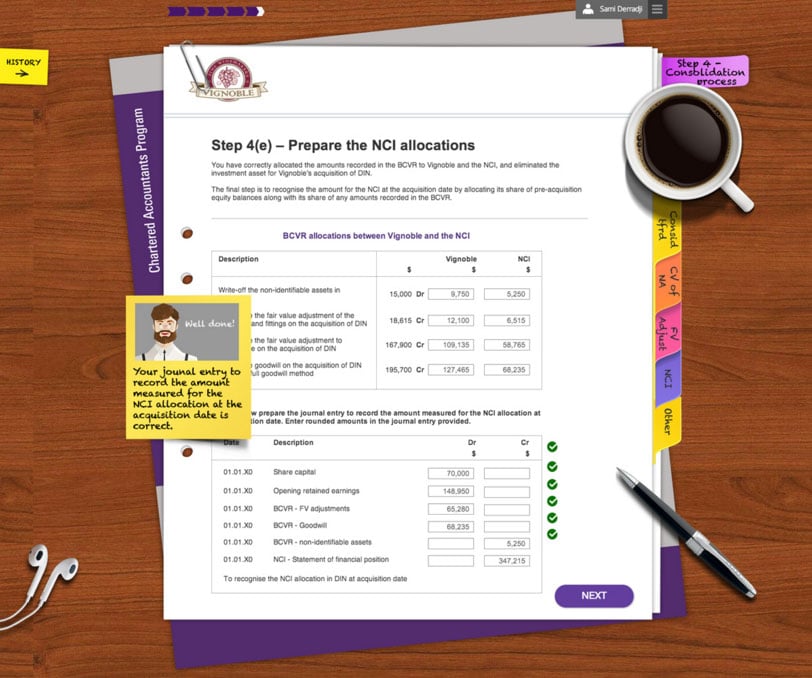 The lesson was designed with dynamic facts that presented students with different sets of information, in varying amounts, each time they took the activity—much as it would if they encountered this situation professionally. This allowed instructors to tailor the content to each student's' individual level of knowledge, learning styles and needs and students to retake the lesson multiple times to reinforce the core concepts and apply them in a practical way.

Smart Sparrow helped us to bring this accounting topic to life. Candidates had been asking for more examples and the development of this lesson enabled us to offer them an endless supply. The way it has been constructed means that every time a candidate completes the lesson they can log straight back in to get a new set of facts.
Results
Overall, the FIN Adaptive Lesson had a positive impact on the learning experience, with high levels of student engagement during the lesson (an average of 3 lesson attempts per student, with 3,704 students enrolled) and tangible improvement in performance noted between iterations. Of those who completed the lesson in full, 77% agreed they enjoyed the learning experience and 74% of students also agreed the lesson was a good resource for final exam preparation, which is reflected in the number of voluntary lesson attempts.
In addition, the lesson's built-in learning analytics and author adaptivity feature have allowed instructors to teach more effectively. With specific, tailored feedback based on student responses and interactions, instructors are given the data they need to adjust their teaching methods, and tend to those struggling students as needed.
The FIN Adaptive Lesson was recognized in 2 categories of the 2015 LearnX Impact Awards: Silver for Best eLearning Model – Blended, and finalist in in the Best eLearning Design – Interactive Scenario for its well-designed solution to pedagogical challenges. This award-winning learning experience is a true reflection of an exceptional collaboration between subject matter experts, learning designers and developers.
Continuous Improvement
Using the platform's analytics drill-down dashboard CAANZ's SME and Smart Sparrow Learning Designer analyzed student performance, behavior, feedbacks and common misconceptions looking for actionable insights to improve and adapt the lesson. By incorporating the learnings they obtained from the previous cohort into the lesson they managed to significantly increase completion rates while reducing average time spent on the lesson in the next cohort.
Student Feedback
"I found this was a really good way to test my understanding of units 15 and 16. I completed the lesson more than once to test if I understood different aspects when the question changed"
"The more this sort of thing can be brought into the technical modules the better - really really good.
"It was helpful to have all the information on the tabs on the right to flick back to remember info. This isn't available in worked examples which makes worked examples annoying to answer"
"IT WAS AMAZING! It was a great, fun way to force the student to think about the inputted answers because they are unable to proceed otherwise. The adaptive learning was reflective of a real life scenario which was another positive."
Awards
"Best eLearning Model - Blended" Silver in LearnX Impact Awards 2016