Please Note: This activity is a portion of a larger lesson. It is optimized for desktop use — we recommend viewing full-screen. 
Introduction
Digital literacies are the "capabilities required to live, work, and learn in a digital world" (JISC 2011). La Trobe University considers teaching these literacies a vital aspect of its agendas given the importance of Social Media in students' lives. Not only do university students need to be able to use and communicate via Social Media, but they also need to understand the professional, ethical, and legal aspects and responsibilities.
Challenge
Despite the ongoing evolution of Social Media, many of today's students are lacking a full awareness of the digital responsibilities and consequences of their Social Media activity across private, professional, and academic spheres.
La Trobe wanted a way to educate students about the effects of their Social Media presence across these three spheres so students could actively reflect, assess, and shape their e-reputation. It was important that the learning experience engage students' attention with personalised, interactive content and a vibrant, visually engaging look and feel to emulate the Social Media outlets that students visit.
Solution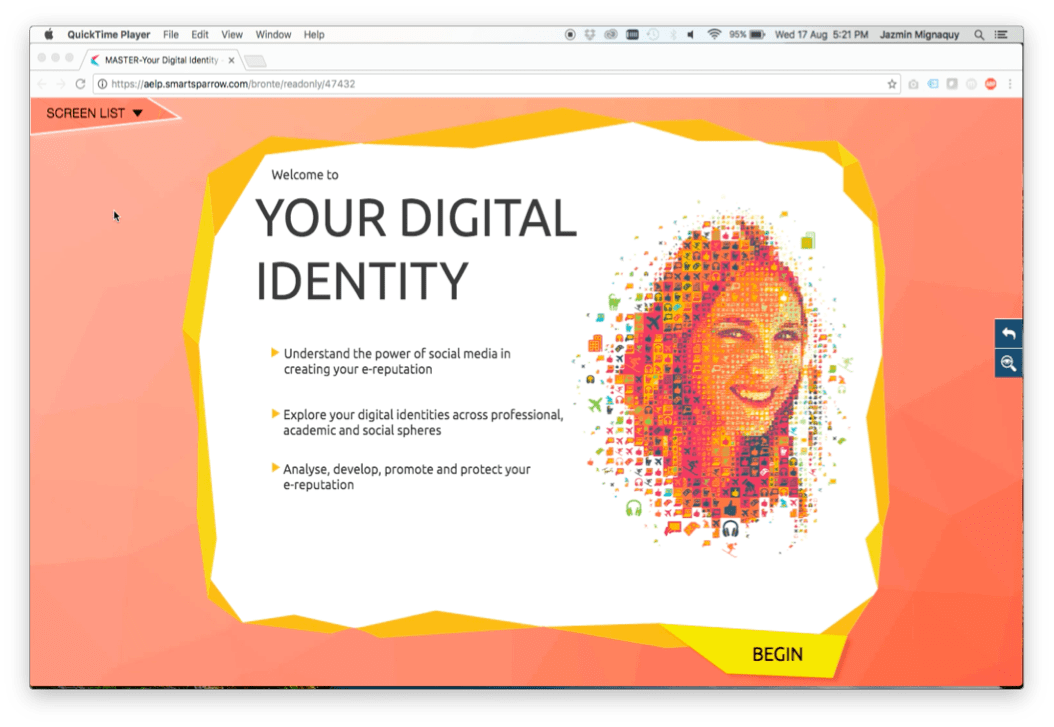 La Trobe created a fully online, adaptive, personalised e-learning module titled "Digital Identity: Making Your Mark." It focuses on evolving students' digital literacy using engaging and innovative technology, which is rarely employed when addressing the impact of Social Media. The module was developed by a La Trobe team of academics, educational designers, and librarians in partnership with Smart Sparrow's Learning Design Studio.
The goal of the module is to provoke students to reflect on their digital identities (and those of others) in order to understand the extraordinary power of Social Media and its influence on their e-reputations. Students reflect on how their e-reputation is created, how they use Social Media in their day-to-day lives, and how they can interact respectfully and ethically across Social Media platforms, keeping in mind ever-changing privacy policies and the permanence of digital footprints. They're also asked to consider how their digital presence can influence not only their social and academic lives, but their careers and dream jobs.
The module is arranged into three parts: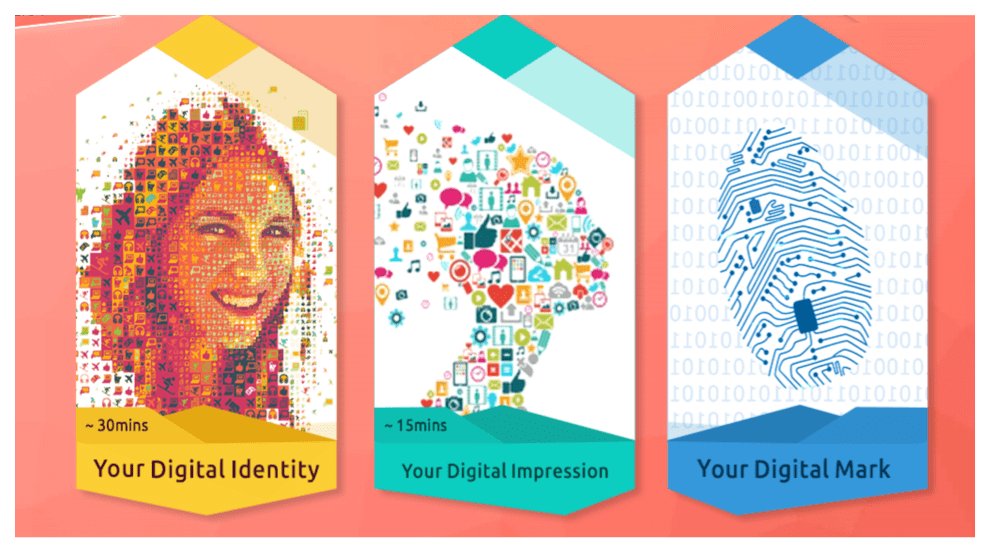 Your Digital Identity
Your Digital Impression
Your Digital Mark
The module engages students with interactive, thought-provoking activities, while receiving tailored guidance and support. For example, as students explore the complexities and subtleties of how people use various Social Media platforms, drag-and-drop exercises ask them to map out how they would classify the different Social Media tools.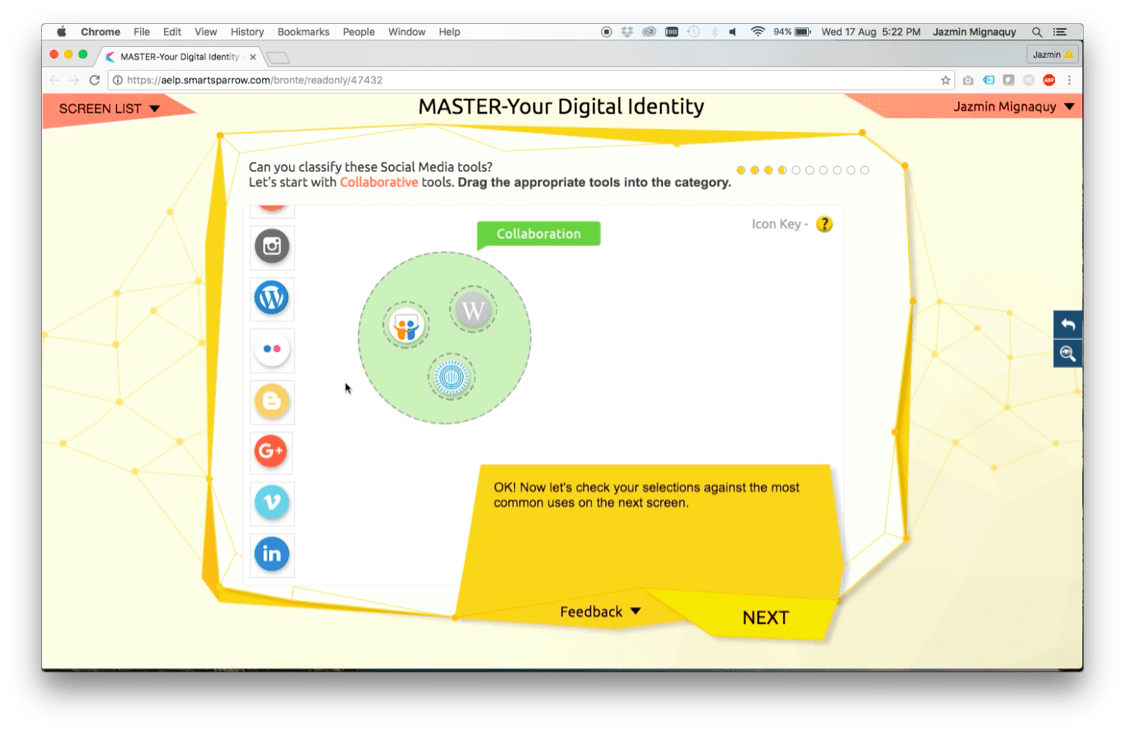 Results
The module is part of a larger IRU (Innovative Research Universities) Digital Readiness initiative between La Trobe University and James Cook University in Australia. In 2016, it has been deployed as stand-alone and integrated options across: a 2nd year journalism course of 255 students at La Trobe University, 5 postgraduate AusAID coursework international student programs, 25 Hallmark students at La Trobe, and 744 undergraduate students at JCU — all-in-all over 1,000 students. Future visions are to evolve the Digital Identity content into an open source shareable platform.
Student feedback showed that the module successfully highlighted the importance of judicious Social Media use. In an end-of-lesson survey, 76% of student respondents agreed or strongly agreed that "The lesson changed my views on using Social Media as a tool for my career." 84% agreed or strongly agreed that "I am more aware about the relationship between Social Media and my e-reputation."
The module raises awareness of the impact of e-reputations on employability for these digital-native students. Many students asserted that they would be more cautious when using Social Media moving forward. When discussing the impact of the lesson, feedback included:
"It taught me how to use Social Media, to be more aware of what I post, and to be more careful if I want to have a professional job." "I learned to be even more vigilant of what I share and limit my presence to positive output that may influence my career path." "Good lesson, very relevant and important for any Social Media user to take part in."
Students valued the style, vibrancy, interactivity, self-reflections, and videos provided in the lesson, as well as the educational opportunity to analyse various Social Media platforms. They commented:
"Well done on the creation of a fantastic resource." "Great lesson! Very eye-opening and engaging!" "It was very tech savvy and appealing to look at."
As for the larger education sector, this innovative module showcased how to extend personalized, adaptive elearning technology from objective, fact-based fields (e.g. STEM) to more subjective, open-ended, reflective material that is typically considered more difficult to effectively teach online.
La Trobe University Project Team:
Dr. Reem Al-Mahmood, Lecturer, Learning Futures, La Trobe Learning & Teaching
Jenny Corbin, Senior Coordinator, Curricular Services (Library), La Trobe University Library
Logandran Balavijendran, Educational Designer, La Trobe Learning & Teaching
Fiona Salisbury, Deputy Director, Learning and Teaching, La Trobe University Library
Caroline Ondracek, Senior Coordinator, Curricular Services, La Trobe Library
Assoc Professor Julianne East, Director, Student Learning & Engagement, La Trobe Learning & Teaching